HYDERABAD: Food insecurity which has increased during the Covid-19 pandemic is negatively associated with the mental health of young people, an international research study involving the youth from Telangana and Andhra Pradesh has revealed
Calling for urgent support for the most vulnerable, the study, published in online portal 'MedRxiv' on July 1, found that young people in food insecure households reported high rates of anxiety and depression though mild anxiety or depression has significantly decreased as infection rates fell. This vulnerable section of youngsters in AP and Telangana have not shown consistent improvements. Researchers from Hyderabad-based Centre for Economic and Social Studies (CESS) were also part of the study.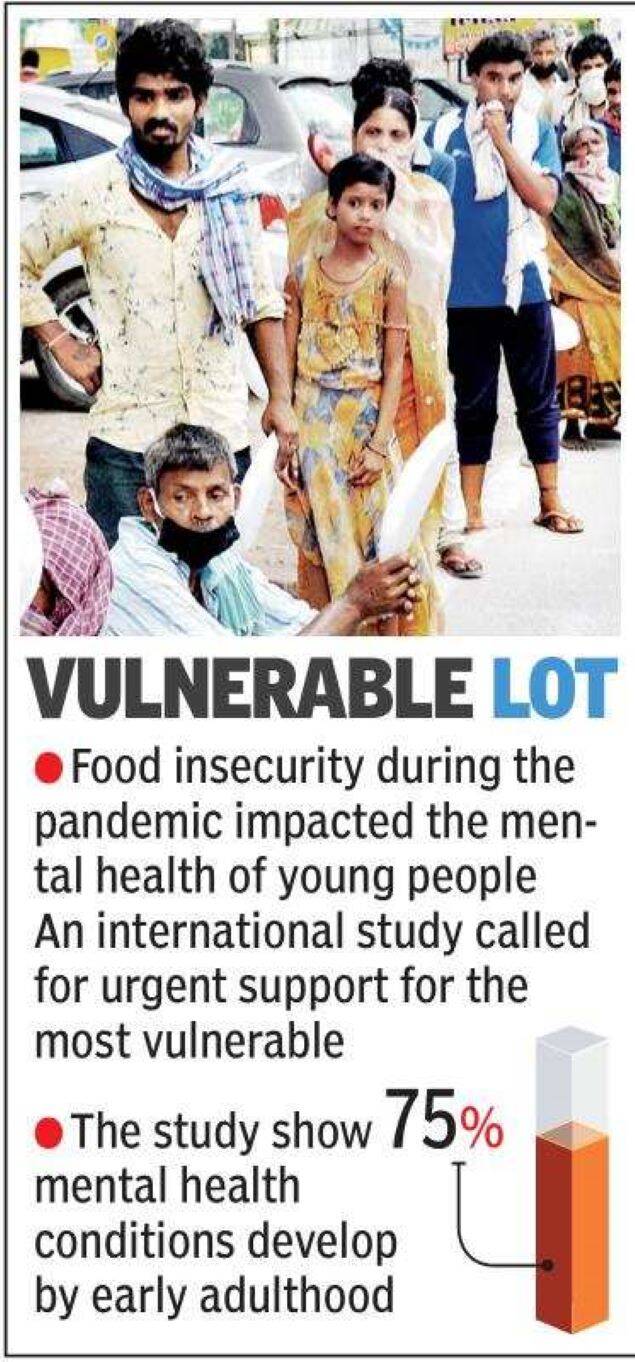 "Though Covid-19 presents less risk to young people of serious morbidity or mortality, the resulting economic crisis has impacted their livelihoods," the study said.
As part of the research data was collected during August-October and November-December 2020 to investigate how young people's mental health has evolved during the pandemic.
Apart from CESS, the research team comprising Catherine Porter, Annina Hittmeyer, Marta Favara, Douglas Scott and Alan Sánchez was drawn from the Lancaster University Management School, Lancaster, United Kingdom, Oxford Department of International Development, University of Oxford, United Kingdom and Grupo de Análisis para el Desarrollo, Peru.
The study outlined how young people's mental health has evolved in India (AP and Telangana) and three other low and middle income countries during the pandemic. It has provided preliminary descriptive evidence of the association between food insecurity and mental health. It has also brought to the fore the characteristics of the food insecure groups.
"Pre-pandemic research shows that 75 per cent of mental health conditions develop by early adulthood and that the poorest are more likely to suffer from anxiety and depressive disorders," the researchers said.