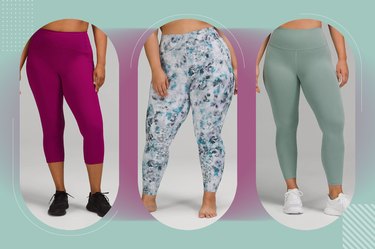 If there's one thing Lululemon does right, it's leggings. In fact, their leggings have gained legions of fans throughout the years, and for good reason.
Their quality performance fabrics allow you to get super sweaty and stay comfortable at the same time. Plus, their leggings stretch and hug your body in all the right places, so they look flattering on every body type and size.
"I'm super frugal but I'm willing to spend a little more money on something that lasts me through years of sweaty workouts," says Brooke Cavalla, CPT, a certified pre- and postnatal exercise specialist and owner of Struggles of a Fit Mom, a health and fitness blog.
Curious what all the fuss is about? Here are the best Lululemon leggings to add to your collection of workout gear, according to experts.
We polled several personal trainers and yoga instructors to find out which Lululemon leggings they rely on for their own workouts. From there, we narrowed down the top styles based on the following criteria:
We make deliberate choices about the language we use when it comes to gender. While more brands now carry gender-neutral workout clothes, you'll still typically see clothing brands, like Lululemon, market their products to men or women.
The main difference between most women's and men's leggings is the fit: Men's versions tend to be longer in length and roomier in the front due to physical differences. However, fabrics, quality and comfort should be the same between gender-labeled pairs. We encourage everyone to purchase the products that feel right for them.
1. Best Lululemon Leggings for Everyday Wear: Align High-Rise Pant
Jamie King, yoga instructor and owner of Flex & Flow, a global movement community, swears by Lululemon's Align leggings for their versatility.
"My Align leggings are my multipurpose, workhorse leggings that can move with me through a power yoga flow, sweat with me during HIIT, survive park playtime with my son and even took me through my entire pregnancy when I had sworn off all other pants," she says.
Other Align fans rave about their proprietary Nulu fabric.
"The fabric is soft like butter and absolutely weightless. It feels like second-skin," says Sneha Meghe, RYT-200, a certified yoga instructor. The fabric is also stretchy, wicks sweat, retains its shape and won't reveal your undergarments (light-colored leggings are lined for extra coverage).
All of these features make Align ideal for everyday wear and low-impact workouts, such as yoga. Snag these leggings in more than a dozen colors and patterns and choose between a 25-inch, 28-inch and 31-inch inseam.
2. Best Lululemon Leggings for Working Out: Invigorate High-Rise Tight
"I'm now on my sixth pair of Invigorate leggings," says Caroline Grainger, CPT, an ISSA-certified personal trainer with FitnessTrainer Online Personal Trainers. "They're absolutely my go-to for running, Crossfit, and even soccer when it's cold enough that I need an extra layer."
These leggings are made of Everlux fabric, which the brand bills as the fastest-drying material in its line-up. The fabric is also stretchy, highly breathable and feels cool and sleek on the inside, making it the ideal choice for intense workouts.
Keep essentials in the side drop-in pockets and hidden waistband pocket. A continuous drawcord prevents waistband slippage during exercise. Just like the Align leggings, you can get these in a 25-inch, 28-inch and 31-inch inseam.
3. Best Lululemon Leggings for Strength Training: Wunder Train High-Rise Tight 25″
Designed for strength training, the Wunder Train tights offer the brand's fastest-drying fabric.
"I like that they're high-rise and compressive while still being breathable — they truly don't budge during my CrossFit workouts," says Nicole Davis, CPT, a Michiga-based personal trainer and editor at Garage Gym Reviews. "Plus, I have a small waist and wider hips, so I like the drawstring waistband that ensures they won't fall down."
These leggings also come in a wider range of sizes (from 0 to 20) than other Lululemon styles. Choose from a variety of colors and patterns and a 25-inch, 28-inch, or 31-inch inseam.
4. Best Lululemon Leggings for Men: Surge Tight 22"
Yep, Lululemon has men's workout leggings (referred to as "tights"), too. Joe Johnson, CPT, a UK-based personal trainer and owner of 9 To 5 Nutrition, relies on the brand's line of tights for his own workouts.
His overall favorite is the Surge Tight 22-inch. "If you're not sure what to go for, I'd recommend these as good all-rounders that you can't really go wrong with," Johnson says. "These offer a great mix of comfort, warmth, style, value for money and suit my personal workout plan."
Although it's originally running, the Surge's weightless, sweat-wicking and cooling Nulux fabric makes it perfect for a variety of workouts. It also features reflective details, side drop-in pockets and a supportive waistband.
5. Best Lululemon Leggings for Running: Swift Speed High-Rise Crop
These leggings feature the brand's proprietary Luxtreme fabric, which is sweat-wicking, breathable, stretchy and cool to the touch, even during your toughest runs. Reflective details increase your visibility in low lighting, while side drop-in pockets and a zippered back pocket offer a safe space for storing keys, credit cards and a phone.
"They don't fall down and they are very flattering," Cavalla says. You can thank the leggings' continuous drawcord for this: It's easy to cinch, won't get lost in the wash and helps keep your leggings in place while pounding pavement.
6. Best Lululemon Leggings for Yoga: Unlimit High-Rise Tight 25″
Made of buttery-soft Nulu fabric, these leggings feel weightless through every yoga pose. They're also breathable and sweat-wicking, making them a great pick for more vigorous yoga styles like hot yoga.
Like other Lululemon leggings, the Unlimit waistband is high-rise in the front and even higher in the back for maximum coverage during forward folds and downward dogs. At 25 inches in length, the leggings are intended to sit above the ankle — perfect for barefoot practices.
The tight comes in three different colors/patterns and sizes 0 to 14. Reviewers say they fit a bit larger, so you may want to consider sizing down.
7. Best Lululemon Leggings for Cycling: Fast and Free High-Rise Tight 25″
These leggings will see you through whether you prefer indoor cycling classes or scooting around streets and trails. They're made of lightweight, quick-drying Nulux fabric that feels cool to the touch and features a high rise to keep you covered while you're bent over the handlebars.
This pair also features two side drop-in pockets where you can store your phone and a protein bar, and five waistband pockets for any extras you may need to carry along your rides.
Choose between sizes 0 to 20, but note that reviewers put these leggings on the larger end of the fit spectrum. If you're taller or prefer ankle coverage, opt for the 28-inch inseam.
8. Best Lululemon Leggings for Curvy Bodies: Wunder Train Contour Fit High-Rise Tight 25″
If you have trouble finding leggings that fit your curves, try this iteration of the brand's high-performance Wunder Train leggings. They have an adjusted hip-to-waist ratio to add more room through your hips and thighs, and feature a narrower waistband so it doesn't gape.
A 25-inch inseam means the leggings sit just above the ankle. Go for the 28-inch inseam if your legs are longer, or you prefer a tight that's closer to full-length.
These tights are available in sizes 0 to 14, and many reviewers advise ordering a size up. Snag a pair in any of five different colors and patterns.
5 Things to Consider When Shopping for the Best Lululemon Leggings
Lululemon leggings are generally available in four different fabrics. Choose the fabric that suits your preferences and workouts.
​Nulu:​ Buttery soft, lightweight
​Luxtreme:​ Super smooth, cool to the touch
​Everlux:​ Dries quickly to keep you cool in humid environments
​Nulux:​ Weightless, fast-drying, offers unrestricted movement
Heavy-sweating athletes may appreciate leggings made of Everlux (like the Invigorate) or Luxtreme (like the Swift Speed), whereas yogis and walkers may prefer soft, lightweight leggings made of Nulu (like the Align) or Nulux (like the Fast and Free).
You can find Lululemon leggings in various inseam lengths, from 21 to 31 inches. The best length for you comes down to your height, personal preference and climate.
"I'm a fan of the 22-inch because they offer a good mixture of warmth and style, and I personally like the cut-off look," Johnson says. If you live in a colder environment or prefer more coverage, a length between 28 and 31 inches might be better.
Want to get an exact measurement? Using a tape measure, measure the inside of your leg, starting from the highest point of your inner thigh, all the way down your inner leg to your ankle.
Most of Lululemon's leggings have a high-rise waistband, a feature most users appreciate. "The high waistband is both flattering and cozy," King notes.
However, if the standard high-rise waistband isn't enough, shoot for a style that boasts a "super" high-rise. And if you're not a fan of so much coverage, there are a few styles that offer a mid-rise.
Consider what features you'll need to make your leggings as functional as possible. Do you need pockets for stashing your phone or a set of keys? Will reflective details make you feel safer when exercising outdoors? How about a seamless design to ward off chafing?
Look over the legging's list of features before adding them to your shopping cart.
Most of Lululemon's women's leggings are available in sizes 0 through 20, though some are more limited. Keep in mind that some of the women's styles tend to run small, so you'll likely need to size up. When in doubt, check the legging's reviews and where they fit on the "fits true to size" scale (found at the top of the reviews section).
The men's leggings come in sizes XS through XXL. Some styles lean toward the smaller end of the sizing spectrum, whereas other are a bit looser. So, be sure to check reviews and sizing info before buying.

https://www.livestrong.com/article/13772406-best-lululemon-leggings/