The best walking poles will help you take your walks to the next level. They'll provide balance and are designed to support joints and strengthen muscles. Our top picks will help you transform your hikes into a full-body workout, whether you enjoy leisurely strolls or intense treks.  
The best workouts don't necessarily require you to work harder, but smarter. With a pair of the best women's walking shoes and some great walking poles, you can tone up, strengthen muscles, and be out in the great outdoors, all at once.
Avid walkers swear by walking poles, and it's not hard to see why. Nordic Walking is catching on fast and is a great example of how difficult terrain can make a gentle jaunt into a real walking workout.
What to consider when buying walking poles
For ultimate support and control on a range of terrain, you'll want poles that create a 90º bend at the elbow when the pole tips touch the ground. You should also consider the material—whether you want to go for cheaper, more durable, aluminum options, or for agile, but expensive, carbon fiber poles. 
For grips, foam is soft and comfortable, cork is antibacterial and moisture-resistant, although heavier and expensive. Rubber is better for cold weather, but less comfortable in the summer months. 
Personal preference also plays a role in your choice. Some walkers will want adjustable, foldable walking poles with a twist lock, while others might prefer fixed walking poles or poles with a flick lock. 
To help you on your search, we've rounded up the best walking poles on the market, including fan-favorites Komperdell Nordic Walking poles, among other top options. 
How we tested and selected the best walking poles 
We put each set of walking poles to the test by strapping on our boots and tackling different terrains. We tested the walking poles by assessing how easy they were to put together, how easy they are to store, and whether they provided us with enough support on our walks. 
We also considered the material of the poles and grips, how comfortable they were as we walked, and whether they were non-slip. We evaluated how easy the poles were to use, if they made us walk faster or helped us climb new heights, and if they helped us build endurance. 
The best walking poles, according to our tests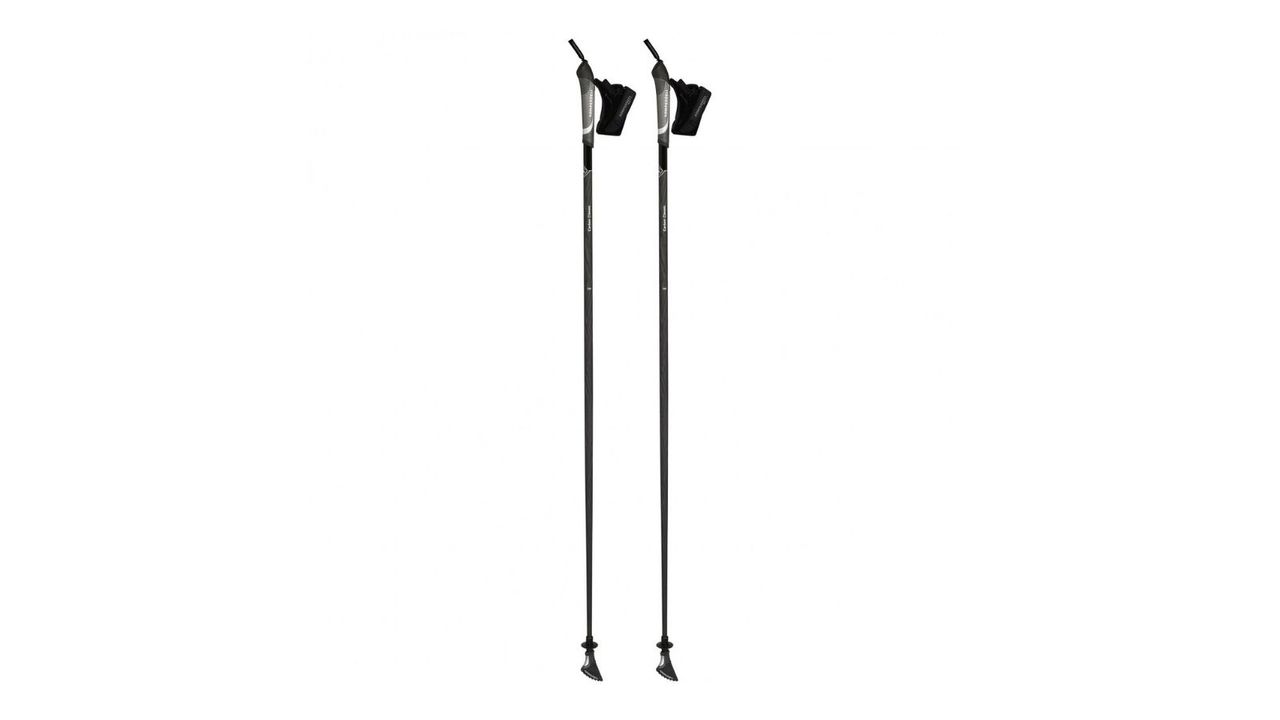 Komperdell Nordic Walking Poles take the top spot as one of the best overall. They are comfortable, lightweight, and handle well. 
Offering control even on the most unpredictable of terrains, these poles have soft foam pads on the hands for ultimate comfort. As they're made from a carbon material, these poles are ultra-light and perfect for long hikes on which arms quickly become tired with a heavier option. The carbon material also offers shock resistance, which keeps joints comfortable and supported as you walk. The padded straps ensure the poles are securely in place around the wrists without weighing you down. We tried these poles on a mix of terrain, including boardwalks and sandy beaches, and found they excelled in all locations.  
The only downside to these walking poles is that they aren't foldable, so they might not be great for those who need flexible poles that can be easily stored, and the carbon material can sometimes become brittle in colder temperatures.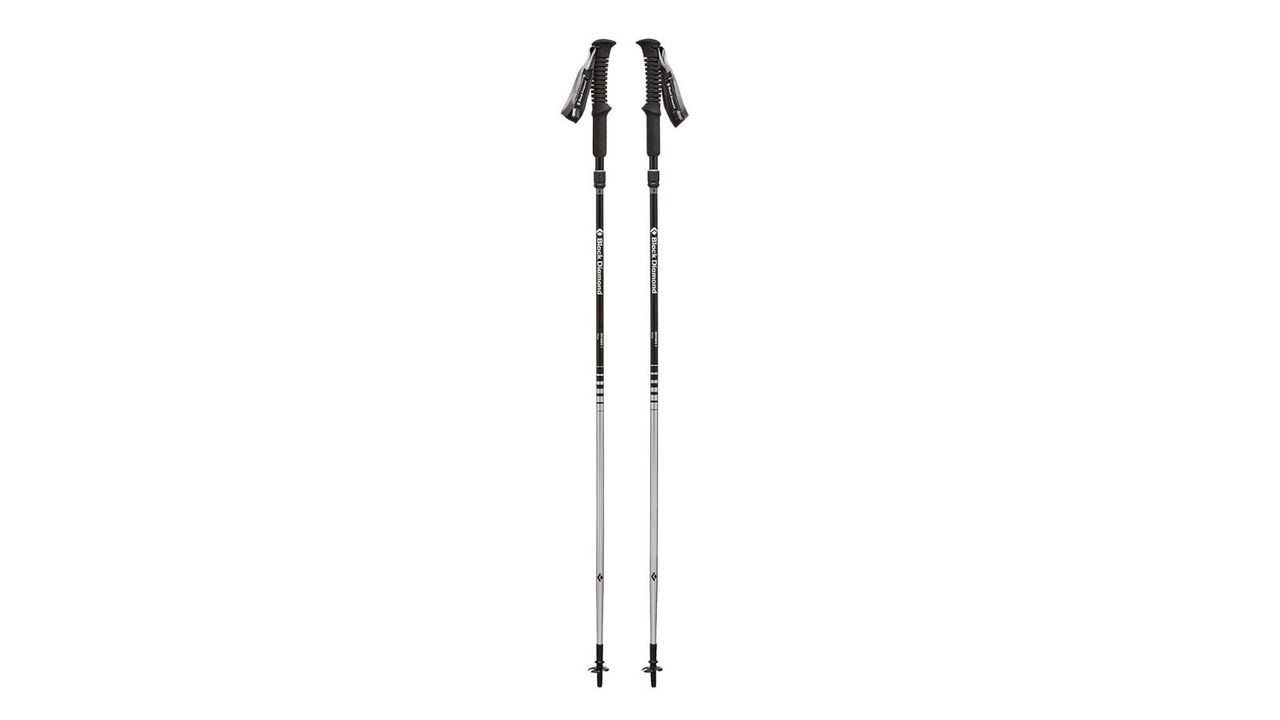 The Black Diamond Distance Z Poles are a little more expensive than other walking poles but worth the investment for keen walkers. The collapsible and foldable walking poles are easy to put together with a little help from the instruction manual included. 
These hiking poles can be adjusted between 100cm and 125cm, so they can really be personalized to suit your needs. As a premium option, they are supportive and durable with an interchangeable tech tip, which is also compatible with other rubber and carbide tech tips. 
The lightweight foam handle and padded wrist straps offer comfort and security, while the easy-to-use lock system makes adjusting easier than ever: flick the lock open, set the length, and then flick the lock closed. With other poles, the common "twist tightening" mechanism breaks down quickly with age, but fortunately the same cannot be said with this option. The wrist straps also resist moisture and sweat, ideal for those trekking in hot temperatures. 
One thing to consider: these poles feel a bit heavier and unwieldy during uphill strolls.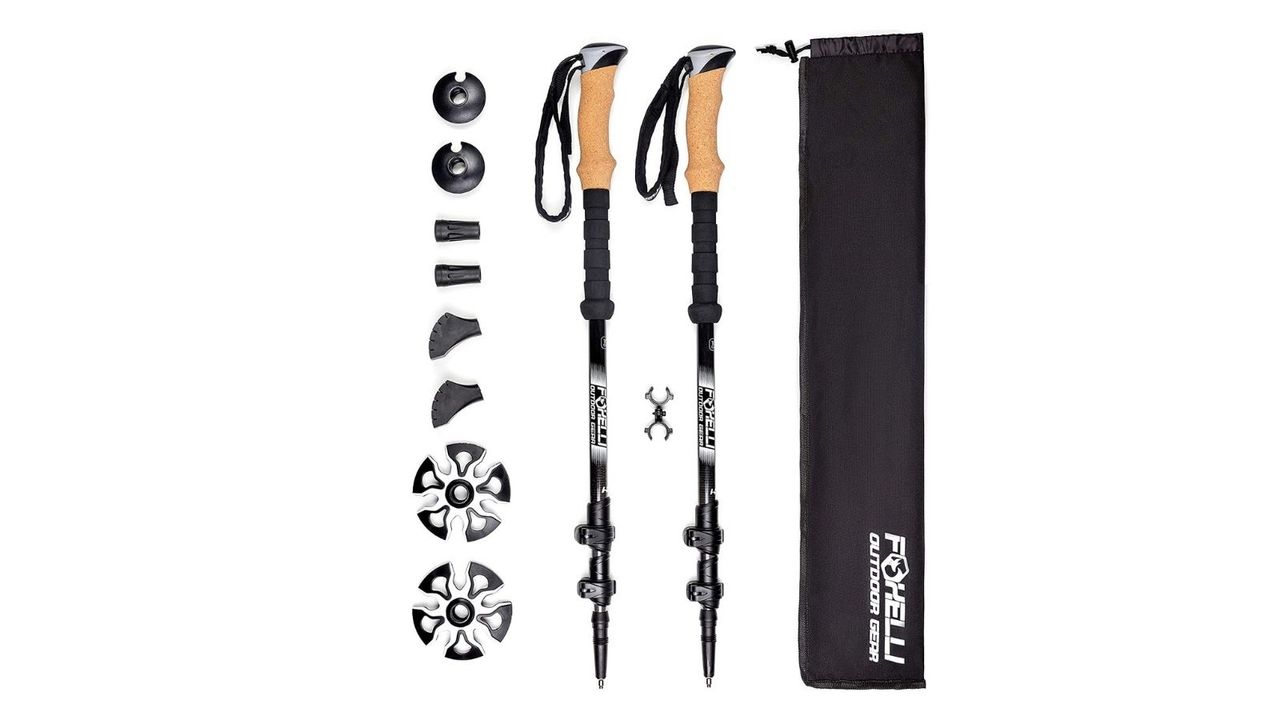 The carbon fiber Foxelli Trekking poles are lightweight, allowing walkers to move quickly and exert less energy, and minimizing the impact on joints. The anti-slip cork handles offer a secure grip and ultimate support, absorbing sweat and keeping hands cool and dry. The only downside to the cork material is it might be a little heavy and firm for some walkers. 
Despite being lightweight, these are sturdy and heavy-duty and will last you many walks to come. As the best collapsible option, they're easily stored and the simple lock system ensures they stay fixed at your desired length throughout your walk. Additionally, the flip-lock system makes it easy to adjust according to height. Poles are retractable from 24" to 55", making these the most versatile and compact trekking poles in our round-up.
What's more, the trekking poles are suitable for all terrains and even come with accessories, like mud and sand baskets, asphalt and rock tips, snow baskets, and a carry-on bag.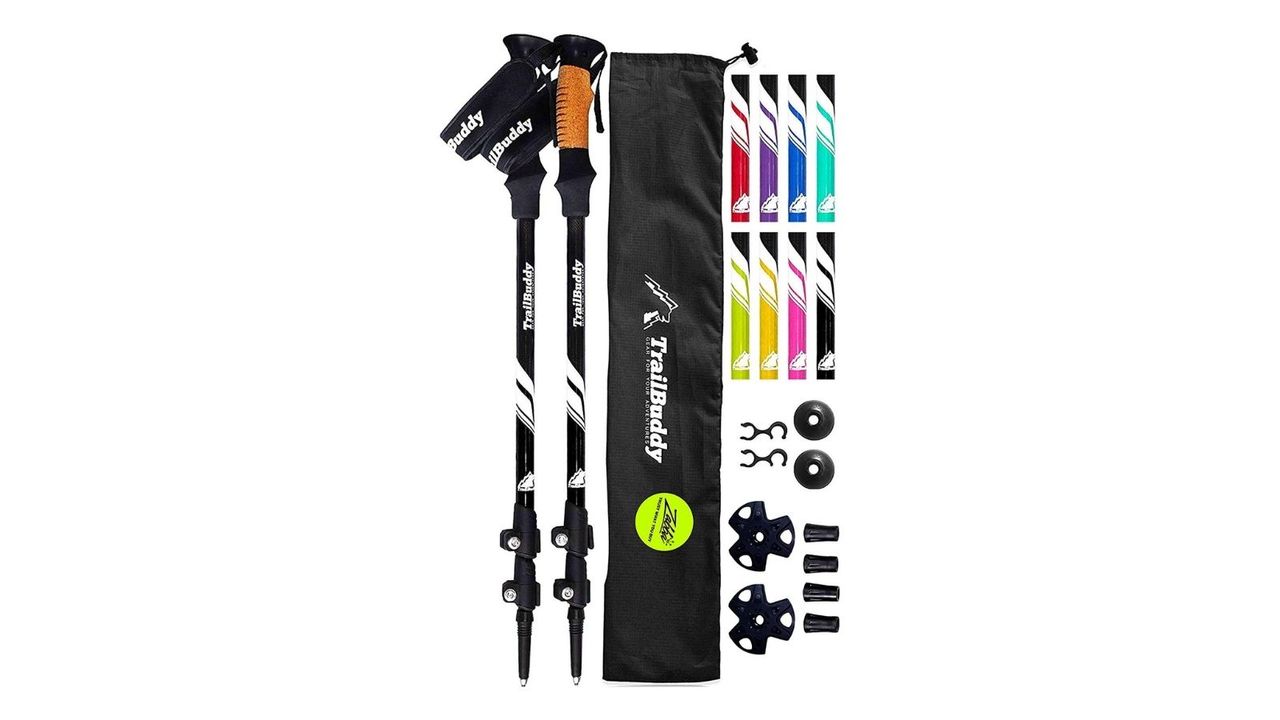 The TrailBuddy Trekking Poles are made of durable aluminum, which may feel a little heavier than some carbon fiber options out there. However, they weigh almost 4oz less than the aluminum found in your usual walking poles, which typically weigh between 18oz and 22oz. 
Aluminum poles withstand more bend and are generally more affordable than carbon walking poles. That being said, they're not shock-resistant, which may put some walkers off this pick. 
We rated the TrailBuddy walking poles for their versatility. Available in eight vibrant colors, the poles come with interchangeable accessories suitable for all types of walking, whether you're ambling through sunny fields or headed to the mountains for a snowy hike. The anti-bacterial cork handle offers firm support, and the adjustable flip-lock makes it easy to change the height of the poles and store them away safely for traveling.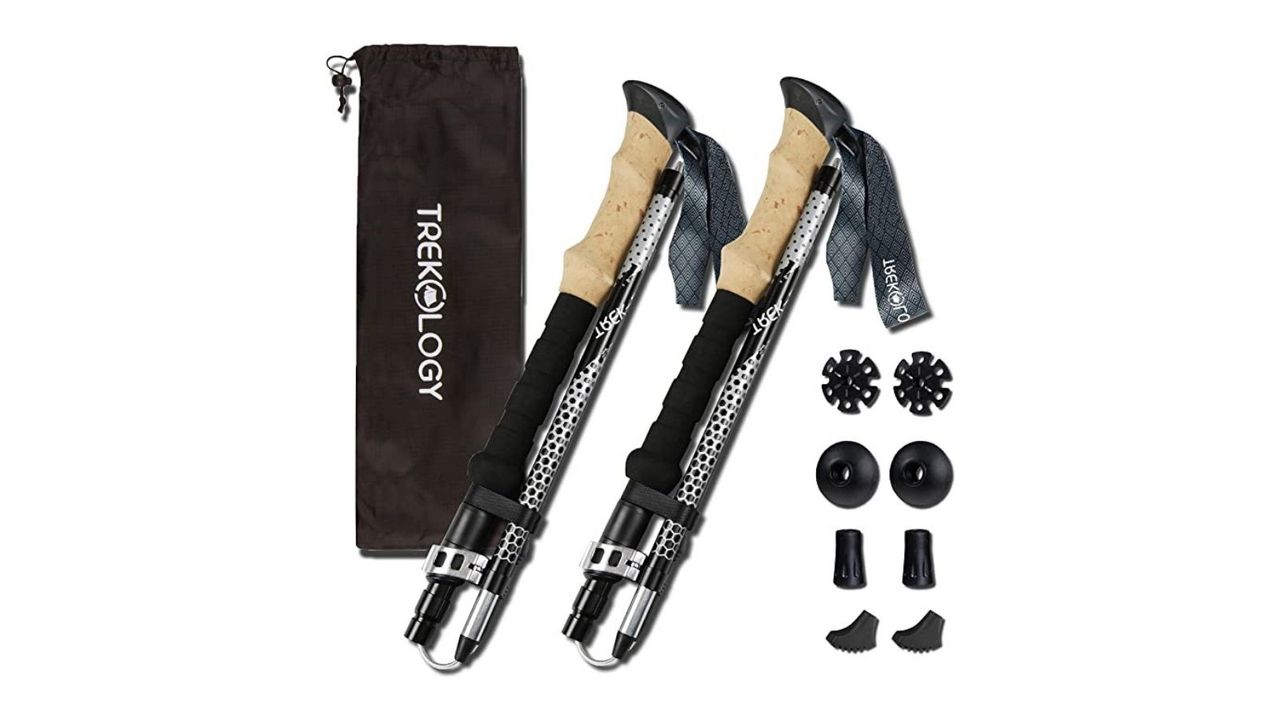 TREKOLOGY Walking Poles are the best in terms of portability and great for seasoned hikers. 
When it comes to assembly and disassembly, the poles break down into sections. Each part fits nice and snug in check-on bags, carry-on luggage, backpacks, and more. Though they don't feel hefty to hold, the hardwearing aluminum will serve those craving long hikes well. They also come with interchangeable accessories including carbide and rubber tips for different terrain but especially paved and packed dirt. Plus, a mud stopper for soft ground, which will prevent your poles from sinking.  
With these walking poles, you can simply use the lever lock to adjust the length anywhere between 26" (65 cm)  and 53″ (135 cm). This feature is great to use for uphill or downhill landscapes—as you can shorten or lengthen the poles accordingly for stability and support. The wrist straps are also adjustable and will keep you in place. Combined with the lightly ribbed grip and soft foam handles, these walking poles offer maximum stability and comfort.
The only drawback is that the straps are made of vinyl without any pads, which may be uncomfortable for some.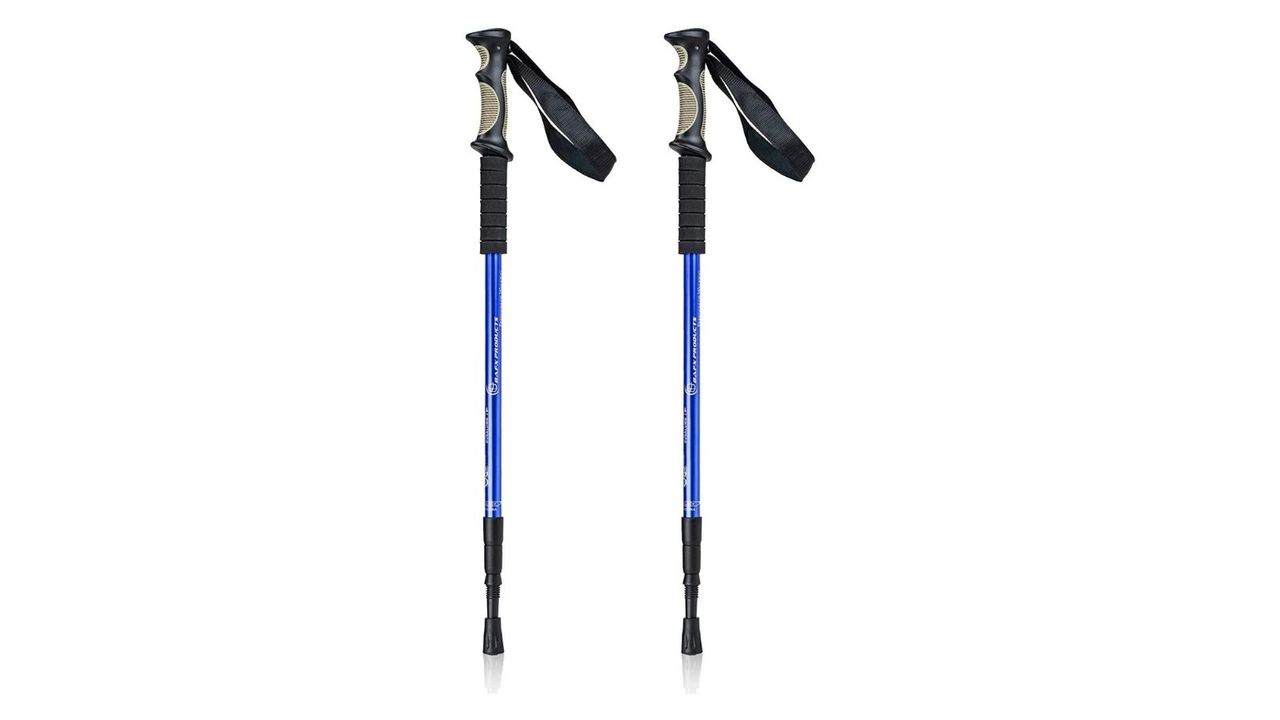 An ideal option for kiddos and beginners of all ages, these walking poles are made from lightweight aluminum and feature padded wrist straps, an exceptional addition for first-time users who may need the extra support. With this option, you'll be able to enjoy the convenience and versatility of various tips, which are tailored to withstand a range of environments and terrains. Not to mention, they include a simple twist-lock locking mechanism.
The poles also have an adjustable built-in anti-shock feature. The anti-shock function is an internal spring—designed to reduce ongoing pressure and jolts that come each time the pole hits the ground. Ultimately, this feature helps to minimize strain and stress on the hands and joints for more stability and comfort during your walks. 
How to take your walking workout to the next level 
If you've been weighing up walking vs running, there are many ways you can take your walking workouts up a notch without putting extra pressure on your joints by running. 
"Introduce a vertical component," says Dr Cedric Bryant, President and Chief Science Officer of the American Council on Exercise. "What I mean by that is find some hills that you can walk up. This will increase the challenge of the walk, both from a musculoskeletal standpoint and from a cardiovascular, calorie-burning standpoint." 
When it comes to technique, Dr. Bryant says to relax your neck and shoulders, and maintain a reasonably upright posture. "However, if you're doing the hill work, you'll want more of a forward lean. If you're going downhill, walk in a zig-zag fashion to reduce the stress on the knee joint," he adds. 
Additionally, Dr Bryant suggests incorporating an interval training technique known as speed play, or a Fartlek. The Fartlek combines short, high-intensity bursts of fast speed with slow, recovery phases, repeated during one exercise session. 
He also suggests investing in a weight vest and choosing the weight based at 5-10% of your body weight. So, if you're 150lbs, wear a vest that's anywhere between 7.5lbs and 15lbs.
How do I care for my walking poles?
Cleaning and maintenance will ensure that your walking poles remain long-lasting and effective. Here's how to get started:
First, disassemble your poles by pulling the shafts apart. You'll want to do this any time your poles get wet or dirty.
Then, wash them with water, wipe them off with a clean cloth, and let them air dry before reassembly. Wet poles are prone to slipping, which will make it more difficult to put back together. For a deeper clean, we recommend using light dish soap.