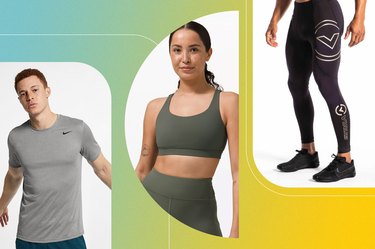 Does your shirt fall over your face during push-ups? Do your leggings droop when you get low on those Bulgarian split squats? Dread wedgies during dumbbell deadlifts?
If you're focusing more on your outfit than your lifts, then it's time to give your wardrobe a makeover. Equip your closet with the best weightlifting clothes and kiss all of your exercise apparel struggles goodbye.
Most companies make and market weightlifting clothes according to gender, so we have listed both women's and men's picks below. The main difference is the fit: Men's workout apparel tends to be longer in length and have more room in the front of the pants. Women's versions are often shorter in length and have more room in the chest. However, fabrics and comfort should be the same between gender-labeled pairs.
The 2 Best Weightlifting Sports Bras
1. Best for Light Support: Lululemon Free to Be Wild Bra
Lululemon's Free to Be Bra is a fitting option for low-impact exercises like bench presses and squats, and is available in sizes 2 to 14. Built with sweat-wicking and friction-free fabric, it helps you avoid chest chafe while busting out your reps.
"This bra fits very well for someone who has a smaller chest. It is breathable, stretchy, yet provides good coverage and support," says New York-based physical therapist and strength coach Melissa Garcia, DPT, CSCS. "It's not too tight and looks cute with the strap back."
2. Best for Medium Support: Nike Dri-FIT Swoosh Bra
LIVESTRONG.com has already named the Nike's Dri-FIT Swoosh Bra as one of best sports bras on the market, and we'd be remiss to not mention it here. Ideal for low- and medium-impact strength exercises, it comes with removable padding to give you more shape, support and coverage. Plus, it has a top pocket for holding your credit cards and keys.
"This sports bra is a classic," Garcia says. "I'm still wearing the same one I got more than five years ago and the quality speaks for itself. It's lightweight and dries quickly."
Check it out in sizes XS to 2XL.
What to Look for When Buying Weightlifting Sports Bras
The first thing to look for is sizing. Your bra should feel snug and secure, but never uncomfortable. Be on the lookout for customer reviews that go into detail about if the sports bra runs true to size, big or small. These reviews give you a better sense of what size is best for you.
Second, get a bra that suits the intensity and impact level of your activities. If your strength training sessions tend to have some squat jumps mixed in, you may want a bra that offers more support. (During strength workouts, a maximum-support bra usually isn't necessary like it is during running workouts.) However, if you're in it just for the lifts, light support is probably fine. Some sports bras come with cups for extra coverage.
The 2 Best Weightlifting Tops
1. Best With Short Sleeves: Nike Dri-FIT Legend T-Shirt
Training in a tank gives you extra ventilation, but if you're hitting the squat rack, you might want to wear a short-sleeve shirt to protect your skin from unforgiving barbell ridges.
Available in an array of colors, this lightweight Nike T-shirt deserves a spot in any gym-goers closet (Garcia owns several). Made with Nike's signature Dri-FIT fabric, this tee keeps sweat at bay, no matter how intense your workouts get. Plus, it has a relaxed fit, giving you freedom of movement.
"It should be a staple for anyone in strength training," says California-based physical therapist Jereme Schumacher, DPT. "It's super lightweight and the material is great to wick away moisture to help keep you cool during tough workouts."
This top, available in both women's and men's cuts, is available in XS to 4XL tall.
2. Best Sleeveless Option: Lululemon Sculpt Tank
Garcia loves a looser-fitting tank when she strength trains because it allows her to move more freely and with better form.
Available in sizes 0 to 20, this flowy training tank stops right below the waistline, upping airflow and providing a little more coverage than tight-fitting workout tanks do. The shoulders also have mesh panels for extra breathability.
What to Look for When Buying Weightlifting Tops
A breathable, light and form-fitting yet roomy top is ideal for strength training, according to Garcia.
"You don't want the clothing to restrict your range of motion or get in the way of an exercise," she says.
Also consider the sleeve length of your weightlifting top and find one that suits the demands of your workout. For example, if you prefer more ventilation, go with a tank. But if your strength sessions typically involve a barbell on your back, short sleeves can offer more protection for your skin.
The 2 Best Weightlifting Shorts
1. Best Knee-Length Design: Vuori Banks Shorts
Finding your Goldilocks pair of weightlifting shorts depends a lot on length. You don't want a pair that's too long because it might snag on equipment. And a pair that's too short can feel revealing. For Schumacher, the perfect medium is Vuori's Banks shorts. These shorts sit right above the knees, letting you move easily and comfortably during lower-body exercises.
Unlike most exercise shorts, this pair has a drawstring that allows you to adjust the fit easily and gives you greater flexibility while training. Bonus: It has a zipper pocket to keep your small essentials safe.
You can buy them in sizes XS through XXL.
2. Best Above-the-Knee Design: Athleta Run With It 3.5″ Shorts
Although these Athleta Run With It 3.5-inch shorts are built for running, Garcia loves to wear this pair for strength training.
"Personally — again, just my preference — I like squatting in shorts," she says. "The shorts need to be stretchy and roomy enough so that there are no surprises at the bottom of the squat. I recently purchased these and wear them so much more than just running I'm considering buying more."
These bottoms are made with Athleta's Featherweight Stretch fabric, which guarantees a light feel and plenty of ventilation. This fabric is even snag-resistant, so you don't have to worry about tears if a barbell brush them.
You can buy these shorts in sizes XXS through 3X
What to Look for When Buying Weightlifting Shorts
Want the ventilation of shorts without the threat of (gasp) wedgies? Look for a pair that has a looser fit and is longer in length, Schumacher suggests, so the fabric doesn't bunch up.
Shorts with built-in underwear or a lining can also help provide more coverage and support. After all, you don't want to worry about any unwanted reveals while you're doing hip thrusts.
The 2 Best Weightlifting Leggings
1. Best Full-Length: Virus AU9 Bioceramic Compression V2 Tech Pants
Compression? Check. Flexibility? Check. If you're looking for the perfect tights for lower-body weight lifting, these Virus AU9 Bioceramic Compression Tech tights definitely take the protein-powder cake, according to Schumacher.
The compression fit helps promote workout recovery by boosting blood flow and circulation.
You can buy these tights in sizes XS to XXXL.
2. Best Above-the-Ankle Length: Wunder Under High-Rise Tight 25″ Full-On Luxtreme
If you prefer a shorter pair of tights that also has ample coverage, Garcia suggests Lululemon's 25-inch Wunder Under High-Rise Tights. Although they're originally designed for yoga, their breathable, second-skin feel is perfect for any workout, especially strength training.
"My favorite leggings for weight lifting right now are an old classic from Lululemon," Garcia says. "The Luxtreme fabric is breathable, stretchy, no pills and, best of all, not see-through. The high-rise fit feels nice and supportive so I don't worry about them falling down."
The 25-inch tights are available in sizes 0 to 20.
What to Look for When Buying Weightlifting Leggings
"Overall you are going to want something that is comfortable and breathable," Garcia says. (Aka avoid 100 percent cotton.) Although there's not a huge difference, 7/8 or capri lengths provide some more ventilation than full-length weightlifting pants do.